From Santa Cruz, California, ARCHER NATION is a young touring trio determined to deliver genuine and unrelenting hard rock and metal music to fans everywhere. Keyhan's unique and ferocious drumming, David's masterful bass duties, and Dylan's captivating blend of shredding and singing make for an exciting modern take on the genre while paying homage to the heavy metal inspirations that drive them. ARCHER NATION has worked hard to climb the rock and roll heap with no intention of slowing down as they continue to push towards greater heights, having already toured extensively in over 20 countries, and performed alongside some of the genre's biggest acts.
Dylan Rose / Guitar, Vocals
David DeSilva / Bass
Keyhan Moini / Drums
ARCHER NATION proudly endorses the following brands: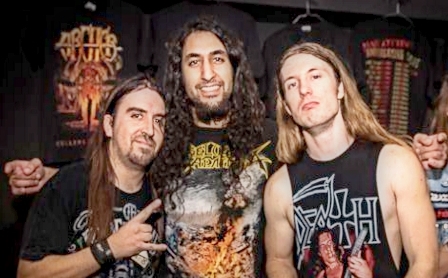 WE HAVE LIMITED LEFTOVER TOUR MERCH TO GIVE AWAY, FOR FREE!
Enter here (one time) for your chance to win some free gifts! One winner per week every week will be selected randomly until inventory runs out. Good luck!
"It feels really good to hear music like this still being made, sounding so full of heritage and yet so fresh. This is up there with Maiden's (and Sabbath's) debut; if they keep this up these guys could go far."
--ROCKTOPIA.com
"this is the kind of music that thrash bands seemed to be trying to make en-masse in the 90's … results in a sound I would not hesitate to call perfect for a rock album" --AmpsAndGreenScreens.com
"It's hard for bands to successfully tow the line between hard rock and more classic heavy metal elements but Archer from the West Coast are a great example of a band who manage to nail it." --METALRIOT.com
"The band consists of three members, but they display the energy of five; the same is true live."
"My rating: 9/10. I purchased Archer's previous two releases via CDbaby as soon as I got home." --BROKENNECKRADIO.com
"Their unique musicianship on this record provided me an excellent insight into their hard hitting Hard Rock and Heavy Metal; it's no wonder they are climbing up the ladder of success and they are not about to stop."
"a brilliant record that will leave many opportunities wide open."
--METAL-TEMPLE.de
"That's what I call a debut! … cool cover .. old school and traditional hard rocking… Huge number of extremely heavy riffs, good melodies and a very decent production bring enormous listening. The influences of the Americans are most likely to be found among the heroes of the NWOBHM like Judas Priest or Iron Maiden" 10 out of 15! --MYREVELATIONS.de
"really intense, voltage enhancing, even breathed the end a little heroic."
8 out of 10! --FFM-ROCK.de
"The riffs and solos are excellent detail and always to the point, the bass is pumping properly and, together with the variable drums for a great groove. The drums themselves are not only produced great, they are also at the same time with a lot of power and small showpieces recorded that it is a pleasure to listen." 9 out of 10! --POWERMETAL.com
"These guys are really good, especially the guitarist is great. Archer fit super to the Doro band. They've already proved their qualities as support on our US tour"
"The band absolutely rips." --PUREGRAINAUDIO.com
"Archer have successfully delivered a hard-rocking stalwart that provides a plethora of riffage, soaring vocals, and a pounding rhythm section and with 'Culling The Weak' they have just delivered one of the finest hard rock albums of the year. If you wanna bang your head to some well crafted rock songs, this is the album for you. Highly Recommended" --THEDEDICATEDROCKERSOCIETY.blogspot.com